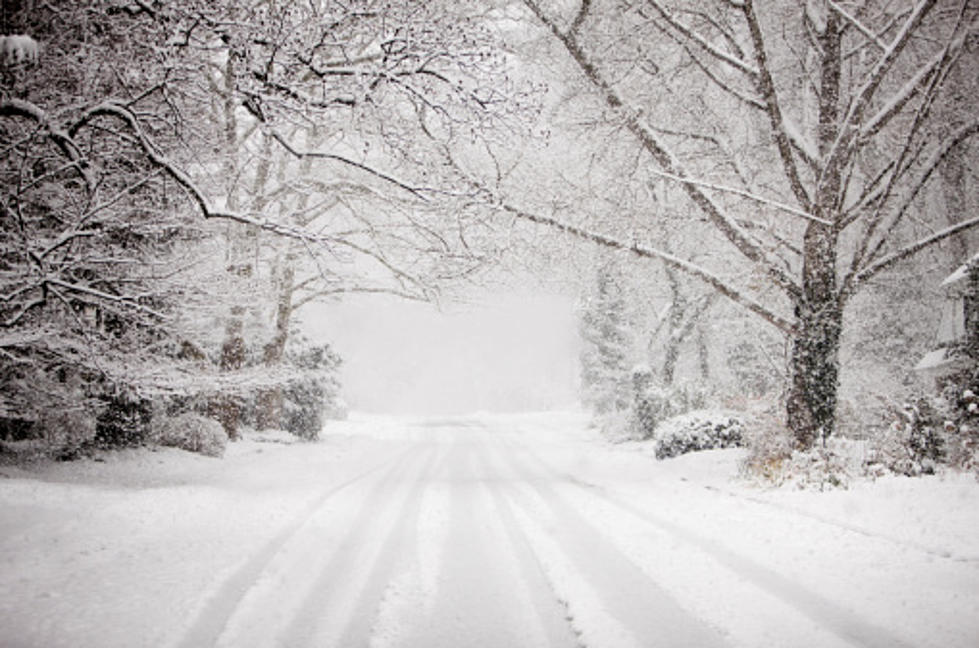 Precautions to Take When the Winter Storm Hits!
Getty Images
Precautions to take when the WINTER STORM HITS!!
by Nick Sorrenti
With winter storms beginning to take full effect and many people struggling due to the lack of notice, I suggest we start taking things into our own hands. Instead of waiting for storms to hit and being under prepared, I suggest that we make a list of emergency products that all families should have in their homes, just in case we are unable to make it out due to winter conditions. Not only is it dangerous to be out in harsh conditions, but it also is just a pain in the butt. Everyone is running around grabbing everything off the shelves trying to be as prepared as possible, meanwhile, they are already unprepared because they're doing this type of shopping last minute. Lets take control and make some ground rules to make sure that all families are 100% prepared for winter storms.
FOOD: The most important thing to keep in mind is that we ALWAYS need to have plenty of food in the house. If times are tough and you can't afford a large abundance of food at once, I suggest going to a dollar store. You can get all of the resources you need for under $20 dollars. The most important foods that I feel is needed in order to get through these harsh winter storms are cases of water, hot chocolate to make the storm go by faster, frozen meals, and just in case the electricity goes out, be prepared to use that fire place to cook some frozen meats. I also understand that you might be worried about keeping those frozen meats as cold as possible once the electric goes out; this is when you use the resources around you and you throw those frozen meats in the snow outside of your house. This might seem odd, but when things get tough and your family needs to eat, you have to do whatever it takes to provide for them.
BACK UP GENERATOR: If you live in an area where you know winter storms are the norm, I suggest that you make it a priority to get a back up generator. Yes, I know these products are expensive but these generators can save families lives in tough times, in this case, a bad winter storm. Generators are handy not only because they kick on when your primary source of power cancels, but also because they are never in use when your primary source of power is properly in effect, which saves people money.
TOOLS: Make sure that before the winter storms come your way, you always have a few of the primary tools that are needed to make the winter storm come and go more smoothly. What I am talking about are shovels or snow blowers, snow salt, winter car brush/scraper, windshield washer fluid which helps snow melt on your car windshield, and if you can afford it, an automatic car starter which will start your car from inside so that it is all warmed up by the time you reach your car. This is a very convenient tool for not only winter storms, but any weather in particular. Also, it is key to always have batteries, flashlights, a first aid kit, blankets, warm clothing, and most importantly, extra cash for any means necessary. Lastly, I recommend that you always keep some dry firewood on hand, so that if the power does go out and you do not have a generator, you can keep heat swarming around your home the old fashion way.
SOCIAL MEDIA: Even though social media can sometime be a pain, you have to use all social media devices to the fullest during these tough times. With this, make sure that all of your devices are fully charged and if possible, have additional batteries on the side just in case you lose power. With the electronic devices you have, you want to make it a priority to stay up to date on all weather advisories and updates that the news releases. They frequently will inform their listeners with a few helpful tricks that will help with making the storm more bearable to handle.
MEDICINE: My final tip is to always have a large amount of medicine stored away. This is so that if anyone may get sick throughout one of these horrible winter storms, and you are not able to leave the premises, you will have the resources to take care of them. The larger amount of medical resources you have in your house during these times, the better. You will never have to worry about someone catching a cold, or sore throat, which could turn in bronchitis or pneumonia. With your medicine stored away, you can take care of the people you love the most and get through these storms with a house filled with healthy people. Just remember, under these circumstances, there is no such thing as having to much medicine in your house.