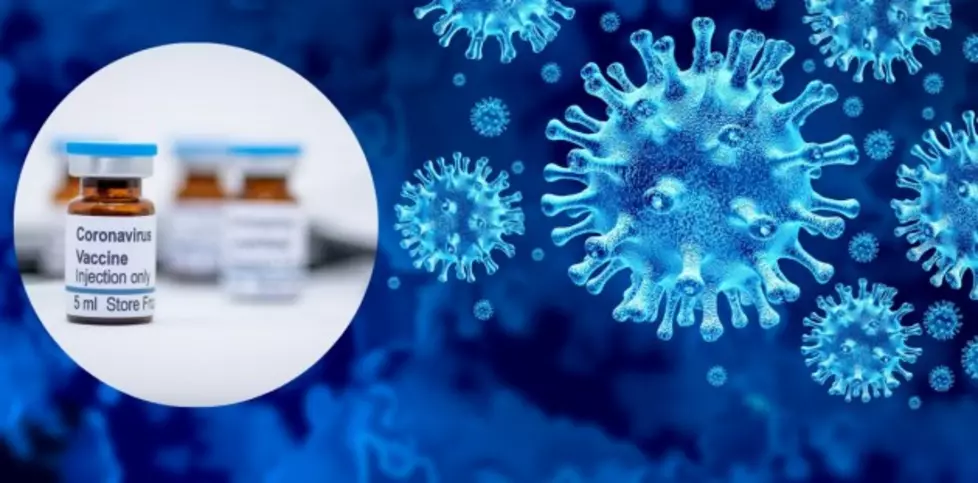 Tri County COVID Update For May 19 With Vaccination Clinics
Credit: Getty Images
Looking at COVID-19 case numbers reported by The Otsego County Department of Health (5/18): there were 3 new confirmed cases on May 18 with 2 people currently hospitalized with complications from the virus.  There are currently 25 known active cases in the county with a total of 62 COVID-19 related deaths. The Health Dept. has a COVID-19 dashboard with daily updates for the latest information.
To stay up to date on vaccine clinics in Otsego County, visit www.bassett.org/covid-19/covid-19-vaccine and www.otsegocounty.com.
There are upcoming clinics administering the Pfizer vaccine at the following schools for those 12 and older. Register for the clinic of your choice at www.otsegocounty.com. All clinic appointments are based on first-come, first-served.
CLICK ON THE LINKS BELOW TO REGISTER FOR YOUR APPOINTMENT;
5-24-21 at Worcester Central School
5-27-21 at Unatego High School
6-02-2021 at Edmeston Central School
There is a New York State and Bassett Healthcare mass vaccination site at SUNY Oneonta for anyone currently eligible. Anyone 12 and older is now eligible to receive the COVID-19 vaccine. Walk-ins are now welcome at any NY State-run site. Wait times will vary.
Delaware County Health officials have an update from 5/18, reporting 7 new cases. At that time, there were 43 active cases and 8 people hospitalized. The total number of deaths related to coronavirus complications remains at 47. Go to delawarecountypublichealth.com/covid-19/#Dash to access the Delaware County Public Health COVID-19 dashboard.
Delaware County Public Health will be conducting a Single dose Janssen (Johnson & Johnson) COVID-19 vaccination clinic this
Saturday, May 22
at the Stamford Fire Department
, 111 Main St, Stamford from 10AM-12PM. This vaccination clinic is open to all New York state residents or people who work in New York State over the age of 18. Registration is required with no walk-ins.
To register CLICK HERE
. For more information or assistance getting registered call Delaware County Public Health at 607-832-5200.
A Message from UHS Delaware Valley Hospital (DVH) regarding the vaccine:
DVH and Delaware County Public Health Services (DCPHS) are are collaborating to help bring COVID-19 vaccines to rural communities in Delaware County. If you are a resident of Downsville, East Branch and Hancock and are interested in being vaccinated at a more local clinic, please call UHS Delaware Valley Hospital Community Relations office at 607-865-2409 and on the voicemail, leave your name, date of birth, and which town's event you would go to. In order to bring a community vaccine event, a minimum of 20 is needed to hold it.
- To see if you are eligible go covid19vaccine.health.ny.gov/phased-distribution-vaccine.
- For COVID-19 vaccine information, county health officials recommend visiting www.nyuhs.org/southerntiervax.
Pharmacies are currently designated to vaccinate those currently eligible. Below are local pharmacies administering the vaccine:
Browns Pharmacy in Deposit- www.brownsrxdeposit.com/covidvaccine 
CVS in Margaretville www.cvs.com/immunizations/covid-19-vaccine
Walgreens in Sidney, Delhi, Stamford- www.walgreens.com/findcare/vaccination/covid-19?ban=covid_vaccine_landing_schedule
In Chenango County, the health department reported on Tuesday, May 18, that at that time, there were 56 active cases in the county with 7 hospitalizations, and a total of 76 deaths related to the virus.
For those who are currently eligible for the COVID-19 vaccine, visit www.co.chenango.ny.us/public-health/nursing/covid19.php to find information on the latest clinics available. Those who wish to receive the vaccine need to register on-line.
Coming up this Thursday, May 20, there will be a first dose Moderna Vaccine for 18 years and Older from 2:30 pm to 4:00 pm at the South Plaza (old Label Shopper Store) at 5640 RT-12 in Norwich. To register visit apps2.health.ny.gov/doh2/applinks/cdmspr/2/counties?DateID=C20EEB9144A60160E0530A6C7C15D6C1.
Below is a list of resources for vaccines for those 12 and older:
NYS Am I eligible site: am-i-eligible.covid19vaccine.health.ny.gov
Or call 1-833-NYS-4-VAX (1-833-697-4829)
For UHS Chenango Memorial Hospital you may call 607-337-4888
For BASSETT you may call the information line at 605-547-5555 or visit Bassett.org.
If you think you may have been exposed to COVID-19 CLICK HERE to learn what to do next.
To find a COVID-19 testing site near you visit coronavirus.health.ny.gov/covid-19-testing.
To get information about COVID-19 vaccination distribution, CLICK HERE.
KEEP READING: Here are the most popular baby names in every state
Using March 2019 data from the
Social Security Administration
,
Stacker
compiled a list of the most popular names in each of the 50 states and Washington D.C., according to their 2018 SSA rankings. The top five boy names and top five girl names are listed for each state, as well as the number of babies born in 2018 with that name. Historically common names like Michael only made the top five in three states, while the less common name Harper ranks in the top five for 22 states.
Curious what names are trending in your home state? Keep reading to see if your name made the top five -- or to find inspiration for naming your baby.