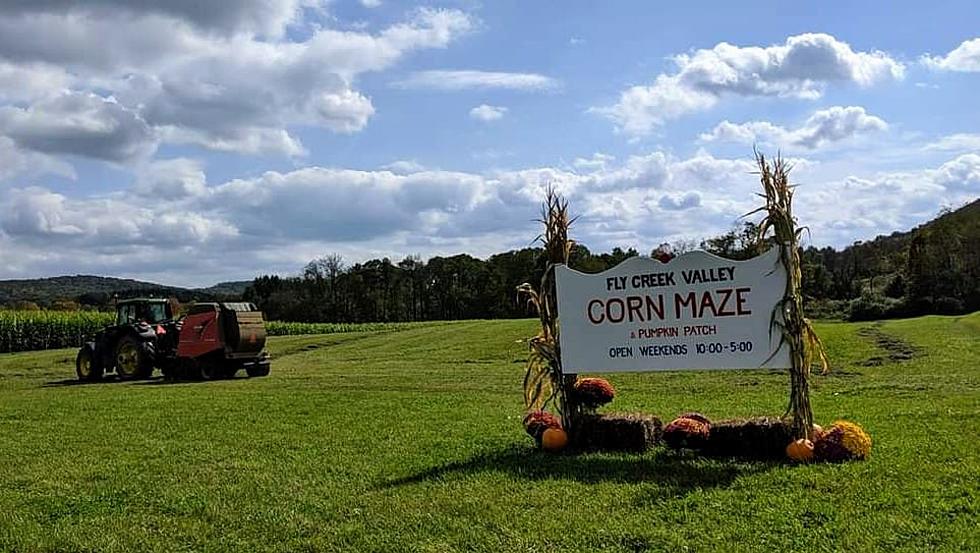 This Challenging Fly Creek Corn Maze Will Keep You Busy For Awhile
Credit: Fly Creek Valley Corn Maze & Pumpkin Patch, Facebook
If you're looking for fall fun in Otsego County, you won't have to look very far. Some well-known places to visit to enjoy the most colorful season include The Farmers' Museum in Cooperstown, The Fly Creek Cider Mill, Middlefield Orchard, and Willys Farm and Cider Mill just outside Schenevus. There's another place you may not be aware of - the Fly Creek Valley Corn Maze & Pumpkin Patch on County Highway 26 outside of Fly Creek.
This corn maze recently opened for the season and will be open every weekend through Oct. 31 with special events along the way. After this past weekend's "Wine Walk", they have some cool events coming up: "Maze by Moonlight", "Fun Weekend at the Maze", "Harvest Moon Maze", and several "Haunted Maze" events just in time for Halloween.
This year's maze design (see above) seems challenging so expect to spend some time in the maze but if you have younger kids with attention spans not quite up for the more challenging corn maze, then there are a couple of other mazes that are perfect for young children.
To find out more the Fly Creek Valley Corn Maze & Pumpkin Patch, click here.
SWEET: Here are the most popular Halloween candies
LET'S GO: The most popular historic sites in America