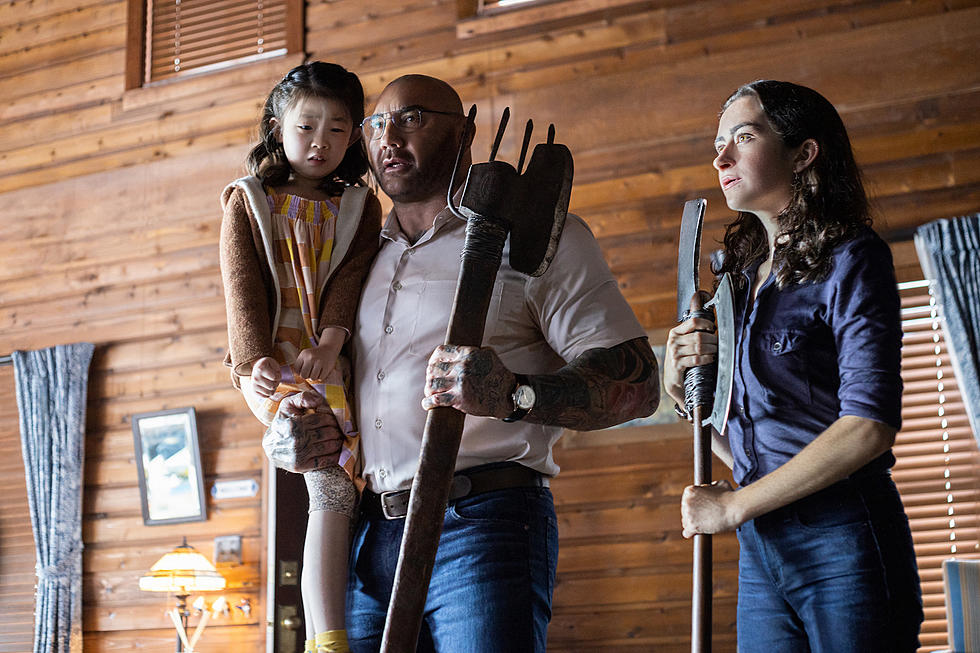 'Knock at the Cabin' Announces Streaming Premiere Date
Universal
If you missed Knock at the Cabin in theaters, it's not the end of the world.
(These are the jokes, guys! Before you complain, remember: This website is free.)
Anyway, if you missed it, or you intentionally waited to see the latest apocalyptic thriller from M. Night Shyamalan, your day is rapidly approaching, as the film will be available on the Peacock streaming service in one week.
The film, based on the acclaimed novel by Paul Tremblay, stars Dave Bautista as the leader of a group of religious zealots who believe that the end at the world is at hand. The only way to avert it, they claim, is for a family spending a vacation at a cabin in the Pennsylvania woods, to willingly sacrifice one of its members. If they do, the apocalypse will be called off. If they don't, they will survive — but the rest of the world will be destroyed. Is Bautista and his crew insane? Or is the world coming to an end? Should the family (played by Jonathan Groff and Ben Aldridge) go along with his plan?
It's quite a thought experiment, and an interesting film. In my review I wrote...
For a long time, Shyalaman had a reputation as a guy obsessed with twists. While he does still occasionally veer into that sort of territory, his movies these days are less about structural gimmicks than insistent messages. In Knock at the Cabin's case, it is a poignant tale about faith and sacrifice — and, above all, avoiding family vacations at all costs.
Here is the film's official synopsis:
While vacationing at a remote cabin, a young girl and her parents are taken hostage by four armed strangers who demand that the family make an unthinkable choice to avert the apocalypse. With limited access to the outside world, the family must decide what they believe before all is lost.
After you watch the the film, you can go deeper into the ending with our breakdown video:
Knock at the Cabin will premiere on Peacock on March 24.
Famous TV Shows That Couldn't Get Made Today
These well-known TV shows and franchises would have a lot of trouble getting on the air today.