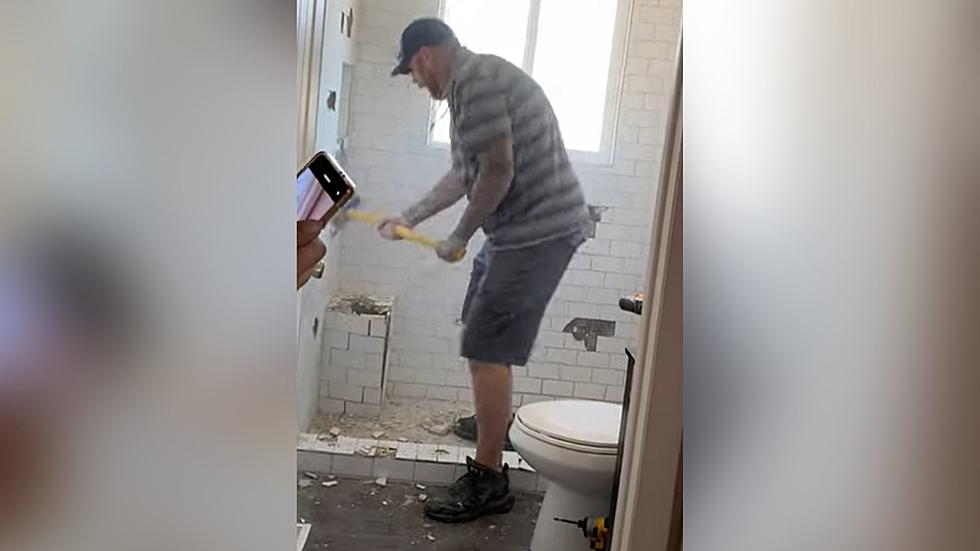 WATCH: Contractor Destroys Remodeled Bathroom After Non-Payment
ViralHog via YouTube
Featured on 'The Worst of Dwyer & Michaels' 2/1/2022:
They always say there's two sides to every story, but this one has me up in the air with who to side with.
Viral video online shows a contractor destroying a bathroom inside of a Colorado Springs home. By destroy, I don't mean the typical way a contractor comes into your home and destroys your bathroom.
The video begins with the neighbor of the homeowner, Amber Trucke, asking the contractor to stop what he's doing, as he stands in the bathroom smashing tile with a sledgehammer.
"We put weeks into this, thousands of dollars into this," the contractor, named Terry, says. He was let in to do work by the homeowner's roommate before she left.
"Sir, please stop. Please stop," the neighbor begged.
Terry replied, "Is someone going to pay me?"
As he continued to smash the tile up, he turned to the neighbor and said, "Let me tell you something. No contractor in the state of Colorado will fix that when they found out that I took it back because she refused to pay me. No one."
Amber Trucke said she hired Dream Home Remodels of Colorado for the renovation in her home there in Colorado Springs.
She told KKTV that she paid Terry $3,300 of the $7,500 bill. She said she would be happy to pay it all off once she decided that she was happy with the work.
"For the $3,300 I've already paid, I now have nothing," Trucke told the station.
It turns out that this wasn't a matter of just non-payment. Reportedly, Trucke didn't pay the full amount due to the terrible work.
Police are looking into the matter to determine if there should be criminal charges pressed, or if this boils down to a civil matter.
LOOK: Here is the richest town in each state
Just saying the names of these towns immediately conjures up images of grand mansions, luxury cars, and ritzy restaurants. Read on to see which town in your home state took the title of the richest location and which place had the highest median income in the country. Who knows—your hometown might even be on this list.