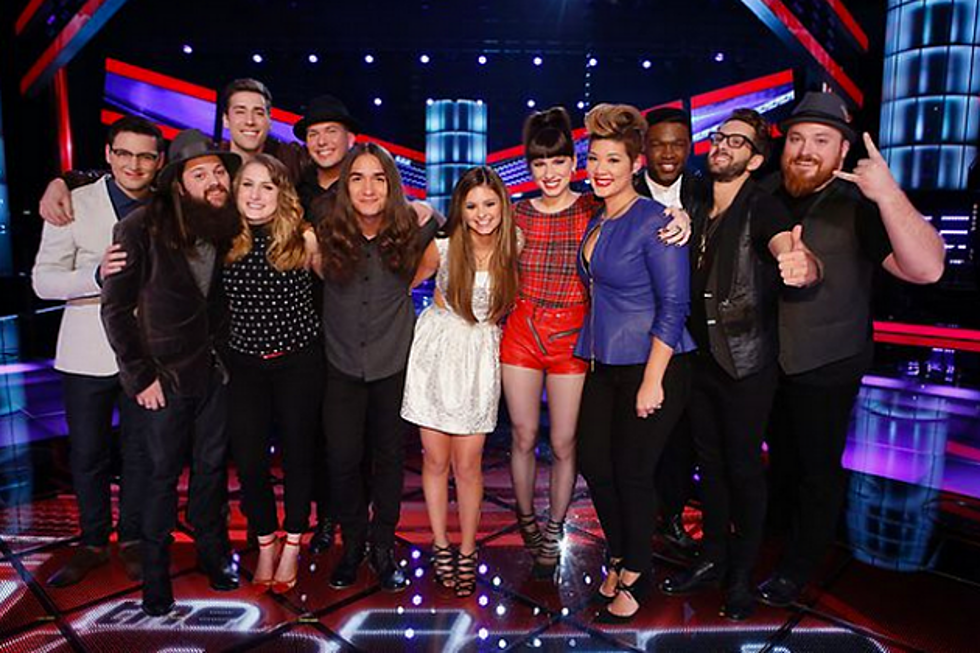 'The Voice' Recap: Kat Robichaud Is Saved In First Ever Live Twitter Vote
NBC
Tonight's live results show of 'The Voice' featured a new twist that has been buzzed about for the past several days: Twitter users will now have a chance to save their favorite singer from the bottom three. For the first time ever, fans of the show can jump on Twitter and use the hashtag #VoiceSave along with the name of the singer they wish to save from elimination, within a very limited 5-minute window. This new "Instant Save" curveball will certainly change the outcome of the show, and along with all the other 'Voice' fans out there, we were eager to see how it would play out on tonight's episode.
The show started with a performance by pop singer Sara Bareilles singing her hit song 'Brave' with some help from 'Voice' girls Jacquie, Tessanne, Caroline and Kat. One fun thing about 'The Voice' is that contestants often get multiple chances to sing alongside huge celebrities. So regardless of whether or not they win the competition, at least they can add these special moments to their lists of "Cool Things That Most People Never Get To Do." And, hey, that's gotta count for something.
Tonight's episode had the first "Voice Confessional" of the season where the coaches and contestants revealed odd facts and secrets about themselves. The confessionals ranged from Matt Schuler wetting the bed until he was seven years old, to Cole Vosbury pulling out a hidden pen from deep within his fabulous, bushy beard. Adam Levine also "confessed" he had a new puppy named Charlie, and although it was a pretty lame confession, we couldn't help but swoon over him holding his adorable little pup.
Carson then gave his "Let's get to it" intro and announced the first two contestants safe from elimination: Caroline Pennell from Team CeeLo and Matthew "Wets His Pants" Schuler. Once again, no surprises there.
And in another group performance, CeeLo Green and his team sang 'Roam' by The B-52's. The song choice was pretty odd, and the performance was mostly forgettable, feeling more like filler than anything else.
Austin Jenckes, our vote for second best beard on 'The Voice,' was the next singer saved by America's vote, followed by Tessanne Chin. Adam's face lit up with glee, overwhelmed with pride for his star pupil. Aww. Between his heartfelt reactions and his cuddling of puppies, Adam scored some major points with us (and millions of girls everywhere) tonight... as if he needed any help.
Carson then gave the instructions for the Twitter Instant Save that would be taking place soon. Lots of mentions of tweeting and retweeting and hashtagging were made, most certainly confusing any viewer over the age of fifty.
The male 'Voice' contestants then grouped together for a performance of 'We're an American Band' by Grand Funk Railroad. The performance had a lot of energy and the guys actually blended together quite seamlessly. However, what is with the song choices lately? Perhaps the show is trying to attract an older crowd? Or perhaps they can't get the rights to any songs from the past twenty years? Whatever the reason, we're hoping the group numbers go in a bit more of a modern direction in the coming weeks.
For the next round of saves, Jacquie Lee from Team Christina moved on in the competition, as well as Cole Vosbury from Team Blake. Cole's adorable mom (or grandmother, we're not quite sure) looked like she was about to pass out from the excitement. Will Champlin from Team Adam then joined his friends, safe from elimination for at least another week.
Adam Levine joined his team for a rendition of The Beatles' 'A Hard Day's Night.' Once again an oldie… but undeniably a goodie. Adam took to the drums as well as vocals, showing off as the multi-talented, puppy-loving man he is. There were lots of vocal runs and spotlight stealing all over the place, but strangely, it all seemed to work and the performance was as enjoyable as these awkward group songs tend to get.
For the final saves before the Twitter vote, Carson revealed that Ray Boudreaux from Team Blake and James Wolpert from Team Adam were safe. This left Josh, Kat and Jonny in the bottom three, which we ultimately agreed with, despite Josh giving his best performance last night. Too little too late, Josh.
After the commercial and the end of the five-minute voting window, the first ever Instant Save results were announced: Jonny received the least amount of votes, which was incredibly awkward after Blake had just said it seemed most people on Twitter were voting for Jonny. You spoke too soon, Blake! Yikes. Josh received the second lowest votes, which left Kat Robichaud as the fans' first Instant Save contestant.
You owe your fans big time, Kat. Better step up your game. See you next week!