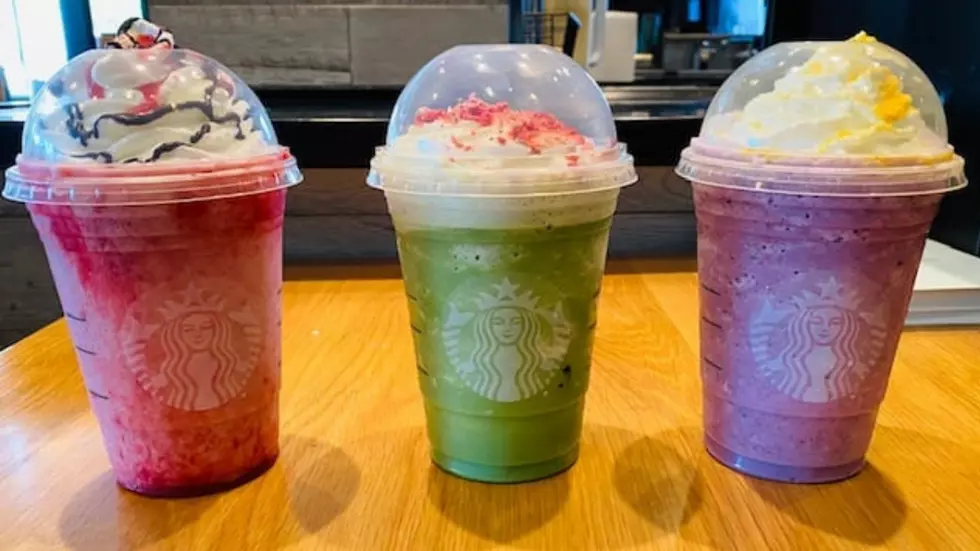 Order The "Hocus Pocus" Frappuccinos at New Hartford's Starbucks
Credit: Totally The Bomb
October is finally here after quite the long year, and that means that Halloween is right around the corner. There's nothing better than lounging around on the weekends watching your favorite movies to celebrate spooky season.
Enter your number to get our free mobile app
Personally, one of my favorite movies that I have to watch at least twice in the month of October is Hocus Pocus. The Sanderson Sisters are a staple in many households this time of year, so it only makes sense to kick it up a notch - by ordering Hocus Pocus themed frappuccinos from Starbucks in New Hartford.
The drinks are a part of the Starbucks secret menu, a collection of drinks that are not listed on the chain's official menu but can still be created by giving the proper instructions to your friendly barista. Created with each sister in mind and based on their personalities, the drinks are tasty and quite honestly aren't very difficult to ask for.
The Mary Sanderson Frappuccino
Ingredients
Strawberries and Cream Frappuccino
Strawberry Inclusions
White Mocha
Strawberry Puree
Mocha Drizzle
Start by ordering a Grande Strawberries and Cream Frappuccino.
Ask for strawberry inclusions to be added and sub the sweetener for white mocha.
Then ask for mocha drizzle and strawberry puree on the bottom and top of the drink.
That's it! That is what makes up the Mary Sanderson Frappuccino! It's pretty simple, yet super tasty!
The Sarah Sanderson Frappuccino
Violet Drink
Soy Milk
Whipped Cream
Ginger Powder
Start by asking for a Violet Drink with extra berries.
Then, ask them to substitute the coconut milk for soy milk.
Then tell them you want the drink to be double blended.
And finally, ask for whip cream and the ginger powder on top.
That's it! Just like that, you will have your very own Sarah Sanderson Frappuccino, perfect for your Hocus Pocus watching party! (Because we should all have one)
Green Tea Frappuccino
White Mocha
Peppermint Syrup
Whipped Cream
Strawberry Inclusions, Crushed
Start by ordering a Grande Green Tea Frappuccino.
Then, ask for one pump of white mocha and one pump of peppermint syrup.
And finally, ask for some crushed strawberry inclusions on top of the whipped cream.
And viola! You now have your very own Winifred Sanderson Frappuccino, perfect for our spooky season coming up and for our Hocus Pocus marathons that we know will happen.
And there you have it! You can find so many more secret menu items through Totally The Bomb. They've introduced so many great tasting beverages into my life recently. 10/10 recommend checking them out.
KEEP LOOKING: See what 50 company logos looked like then and now