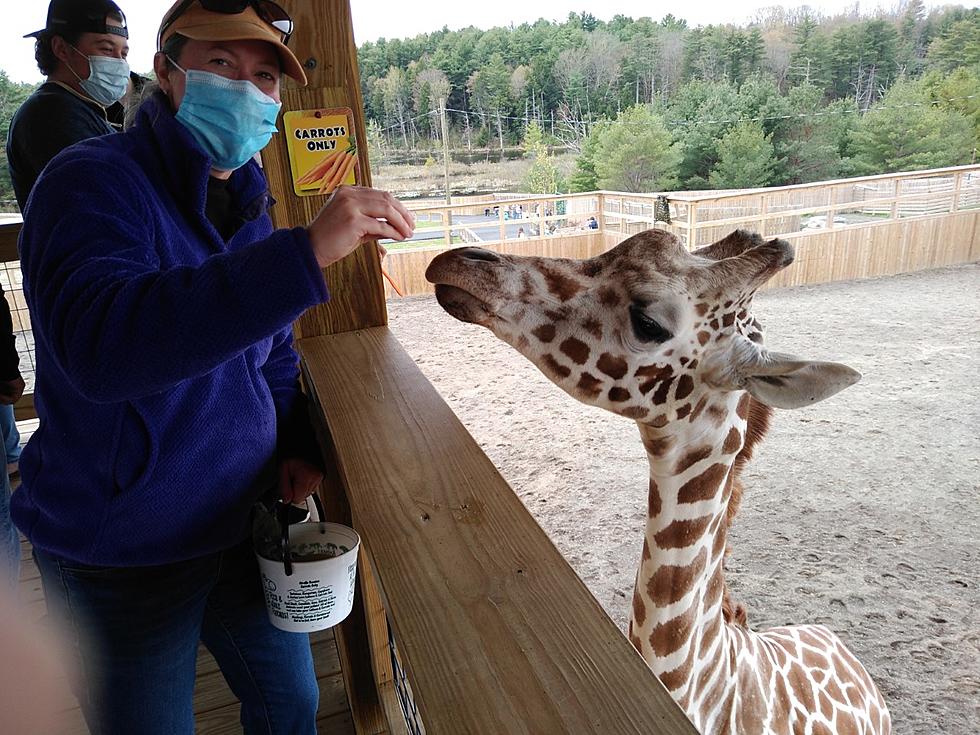 My Wild Visit To Animal Adventure Park on Mother's Day
Leslie Ann feeding a giraffe - TSM Oneonta
Under the category of "local places I want to visit but haven't gotten around to visiting", I got the incentive I needed to head to Animal Adventure Park in Harpursville, NY: free admission for moms on Mother's Day. This is a destination I have heard many good things about but wanted to experience for myself so my husband, son and I headed there yesterday to see what all the hoopla is about.
It's certainly easy to get to, just a few miles off of I-88, east of Binghamton. Even though there are virtually no signs for Animal Adventure Park until you are almost there, it was easy enough to find through Google Maps.
Being in the middle of nowhere has its advantages because there's plenty of parking and this family fun destination is much bigger than I expected. I was quite surprised at the number and variety of animals and birds they have there. Add to that, I found it very clean, including the animal enclosures. I can only imagine the amount of work it takes to just keep it all clean! For what I experienced, I thought that the prices were reasonable at $16 for adults.
What's the best part of Animal Adventure Park? There's no doubt that feeding the animals is the most fun since most "zoo" type places don't allow that. Let me just say that ALL the critters at this park are VERY well fed. My favorite animal to feed was hands-down the giraffes.
Check out some of my pics below from my visit there...
Needless to say, it was a very fun way to spend a couple of hours with my family. If you've never been and are an animal lover, then Animal Adventure Park is a must-visit. For more information about them visit theanimaladventurepark.com.
LOOK: Stunning animal photos from around the world
From grazing Tibetan antelope to migrating monarch butterflies, these 50 photos of wildlife around the world capture the staggering grace of the animal kingdom. The forthcoming gallery runs sequentially from air to land to water, and focuses on birds, land mammals, aquatic life, and insects as they work in pairs or groups, or sometimes all on their own.