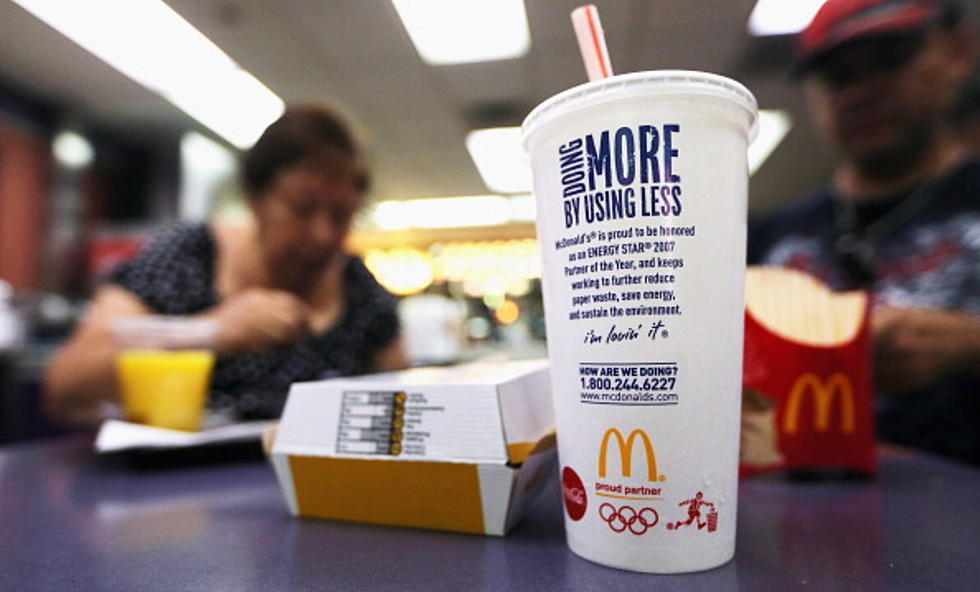 Father and Son Arrested When Cops Find 'Ice' Floating in McDonald's Soda
Getty Images
In Michigan, a father and son were pulled over and arrested by police after crystal meth was found floating inside a large McDonald's cup of Coca-Cola.
On Wednesday, March 16th, Michigan State Police Troopers pulled over a vehicle on I-75 near the Loon Lake rest area in Bagley Township. Driving the vehicle was 54-year-old Victor Emmanuel McMillan, while his son, 30-year-old Joshua Lee McMillan rode in the passenger seat.
After the car was pulled over and searched, officers found a large McDonald's Coca-Cola with strange "ice" floating on the top.
" Large crystals were noticed floating on top of Coca-Cola inside a large McDonald's cup," police said. (Meth and Coke? Sounds like the ultimate combo.)
Michigan Troopers said "they found the top of a tied-off plastic baggie on the floor of the vehicle. It was soaked with Coca-Cola." (ClickOnDetroit)
The crystals were later tested and came back positive for methamphetamine. Both McMillan men were arrested and taken to the Otsego County Jail. Victor McMillan was charged with one count of delivery of methamphetamine. His son, Joshua McMillan was charged with one count of possession of methamphetamine.
The bond for both father and son is set at $10,000 cash. The next court date is set for tomorrow, March 24th.
Read More Here: ClickOnDetroit
Iowa Cat Crystals
Crystal Cats Cleansing is all about helping the cats of Iowa. They found a way to do that, and be able to start a business with something they love. You can see some of the crystals they have right now.
More information about adopting a cat or buying crystals can be found
here.