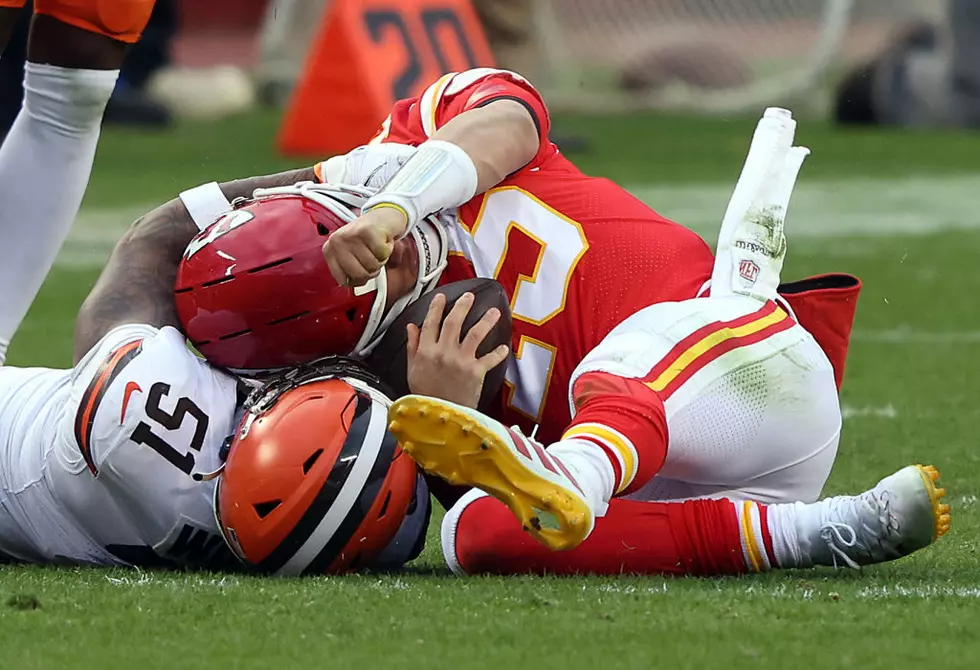 Mahomes Needs To Clear Concussion Protocol To Face Bills
Getty Images
The Buffalo Bills are headed to their first AFC Championship game since 1994 where they'll face the Kansas City Chiefs. Fun fact the Bills beat the Chiefs that year 30-13 but I digress. This time around the entire outlook of the game hinges on whether or not Chiefs QB Patrick Mahomes will be cleared to play or not.
During the third quarter of the Divisional round playoff game against the Cleveland Browns Mahomes was driven into the turf head first. Mahomes had to be helped off the field and wouldn't return to the game. The Chiefs were able to hold off the Browns and will now host the Bills this Sunday at Arrow Head Stadium. So will Mahomes be cleared to play? CBSSports.com posted the NFL Concussion Protocol steps Mahomes will need to clear to play against the Bills Sunday.
1) The player rests until signs and symptoms return to baseline status, and undergoes neurological, cognitive, and balance tests
2) The player begins cardio exercise and/or stretching and balance training under the oversight of the team's medical staff
3) The player increases exercises and/or sport-specific activities and begins supervised strength training
4) The player continues training and resumes non-contact football activities (e.g. throwing, running, etc.)
5) The player is cleared by the team physician for full contact and passes an independent neurological exam, then returns to practice
If I had to guess, I'd assume Mahomes will play in the AFC Championship game. I know that Bills' head coach Sean McDermott will prepare as if Mahomes is playing as well. No doubt though all eyes will be on the injury updates coming out of KC for this week.
Enter your number to get our free mobile app
KEEP READING: Here are 50 of the most famous sports goofs