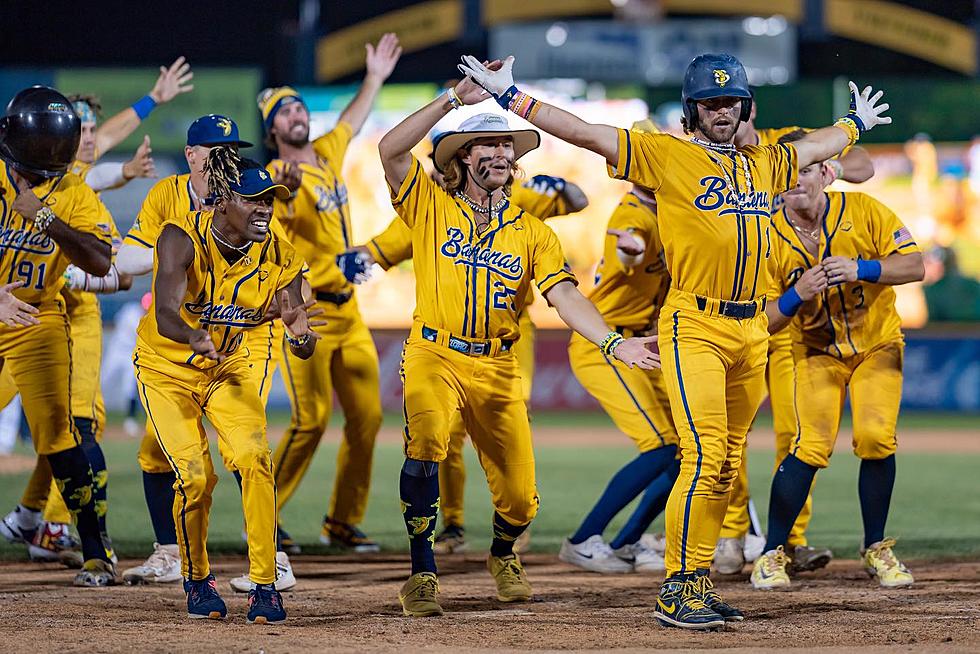 Savannah Bananas Slide Into Doubleday Field in Cooperstown, New York
Savannah Bananas via Facebook
The Savannah Bananas arrive in Cooperstown tomorrow. If you like a side of comedy with your baseball, this is a game for you. Second only to Taylor Swift, these are some in demand tickets. General ticket sales are completely sold out, but some secondary sellers have some available if you're willing to pony up some serious cash.
The team plays exhibition games, and is based in Savannah Georgia. Their games have their own set of rules, and is known as "Banana Ball". One rule applies to the batters box. If a player steps over the line, it's an instant out. A bunt will result in an ejection from the game. Foul balls caught by fans are counted as outs. The games are known for their utter hilarity and uproarious nature. From the Savannah Bananas website:
"We think there's a better way to do almost everything. So we will try it all. Some people may think we're crazy. But we are okay with that. No matter what, we just want to have fun. We are driven by this goal to make baseball fun. And ultimately give fans the best possible experience at our ballpark.

We call this Fans First."

 
Look Out For Scalpers and Scams
As tickets sold out quickly, scalpers and scammers came out of the woodwork. Posts on local Facebook groups have been an almost daily occurrence, with many being weeded out as scams. If someone has a deal on tickets that seems too good to be true, it probably is. Purchasing tickets sight unseen is done at your own risk. A saying amongst frequent concert goers is "buy tickets at face value face to face".
Verified Secondary Seller Has Last Minute Tix
Vivid Seats is a verified secondary ticket selling platform, and it seems that they have tickets available, albeit at a hefty price. As of Friday, September 15th, tickets range between $200-2000, not including fees.
Sip and Discover Otsego County Along The 37-Mile Cooperstown Beverage Trail
If you are looking for something fun and different to do with either friends or your partner for an afternoon, the Cooperstown Beverage Trail offers a lot of variety along this 37-mile trail.