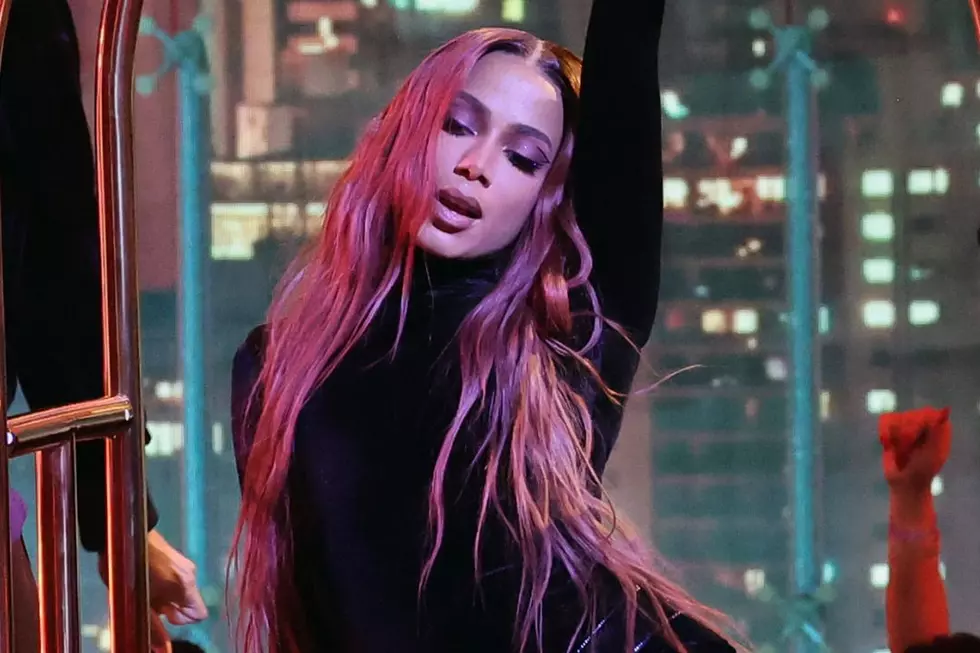 Anitta Reveals Who She Wants to See at the Grammys and Which Women Music Icons Help Her 'Stay Golden' (Q&A)
Matt Winkelmeyer, Getty Images
Anitta is staying golden thanks to her Best New Artist Grammy nomination, the women artists who keep her inspired and her delicious new Guinness World Record title with Lay's.
With the help of Lay's, the Grammy-nominated Brazilian superstar recently recorded her smash hit, "Envolver," using 6,000 potatoes, earning a new Guinness World Records title in the process.
"I'm happy. I wasn't expecting any of this to happen to me, to be honest. When I got an invite from Lay's, I felt so special. Lay's has been part of my life forever, it was just a big honor. When I was there I really had fun. They got thousands of potatoes together to power the recording for me. That was insane and I felt so important," Anitta tells PopCrush.
In an exclusive chat with PopCrush, the international star discusses her creative new collaboration, her whirlwind year and what she's looking forward to at the Grammys.
How did you react when you found out 6,000 potatoes would be powering your new remix?
When I got there, I thought I wasn't going to understand [the process], but then I remembered how much of a good student I was at school. When [they] explained it to me, I was like, "OK, I got it."
How do you know when a song, or in this case a remix, is finished?

It's a gut feeling. Sometimes people don't even believe in your song as much as you do. You know, sometimes you gotta trust yourself, even if people are saying no to you. "Envolver" was one of these songs. Not many people would believe on it. So many people said no to sing this song with me. And then it became No. 1. It was really amazing.
The 'Stay Golden' campaign is all about joy. What brings you joy when you're having a bad day?

When I'm having a bad day, I lock myself somewhere alone. The way I stay golden is to use some quick meditation playlists, and remind myself of positivity and how to come back to my real self. That helps me a lot — to remember myself and be like, "OK, that's you. That's who you are. That's who you like to be." I think that's really important.
Watch Anitta's "Envolver" Music Video:
Something we admire about you is that you've been super open and transparent about your beauty transformations. Why is that important to you?

It's really important. When we are teenagers, I remember very well we think we know everything. We choose the people [who] let us know what's cool and what's not cool. So in case someone has chosen me to become the person who's going to tell them what's cool and what's not cool — because when we are teenagers, we don't want to listen to our parents — I would like to be the artist that guides them to reality, to show things the way they really are.
If I do something wrong ... I like to embrace my mistakes and say — not that I'm proud of them — that I understand that I make mistakes, that everyone makes mistakes. I like to be real about my plastic surgeries and everything. It's just to be honest and make them understand that everyone has ups and downs.
Congrats on your Grammy nomination! You were hosting the Latin Grammys when you discovered that you were nominated. Who did you call first to celebrate the news with?
I didn't know the announcement was happening. I have a group chat with my family and my cousin, who knew the announcement was [that day]. She put everybody together at home to check if I was going to be nominated or not, and they were celebrating so much. When I went to talk to them, they were already freaking out. And I was like, "OK, I was the last one to know about it!"
I kind of liked it because I don't like to bring pressure into my life. I like to live in the moment. It was really fun when that happened. And I mean, for me, I love the fact that they understood that I am a new artist. In Brazil I have more than 10 years of my career, but out of Brazil, I'm brand new, I'm starting from scratch. I love that people can really understand that I am a new artist for these other markets.
Who are you hoping to run into or see perform live at the Grammys?

Beyoncé for sure!
Carnival is coming up. Do you have any favorite traditions or memories?

When I was a kid, my dream was to sing at Carnival. I didn't have money to go anywhere, so I didn't travel. I used to see every friend of mine traveling and I was just staying home because I didn't have money. And nowadays, I travel all around the country, singing around the world.
For Carnival, it was also the first time I sang on the top of the truck because, here in Brazil, we build the stages on the top of the trucks and we go walking around the city, so it's a crazy experience. There was this one time the truck in front of mine broke, and I needed to perform for seven hours nonstop until they fixed the truck. That was a crazy memory.
You've had a whirlwind year. Could you sum it up with your favorite memories or moments?

Winning a VMA [MTV Video Music Award] was really important to me. My concerts in Europe during the summer were really impressive. I didn't know that so many people knew me there. And I had the greatest Christmas of my life because I was with my whole family traveling. For me, there is nothing more important than being with your family and your loved ones. So definitely, I need to put a family moment in my three biggest moments of the year.
You're the artist some fans go to when they want to be inspired or uplifted. Which artists do the same for you?

I love Colbie Caillat. To stay golden is to feel good and feel like you don't need anything. For me, Colbie leaves me in this mood. It's positive but chill, too. Colbie brings me to this zen vibe. Also, Mariah Carey helps me — her happy songs.
Barrier-Breaking Women in Music