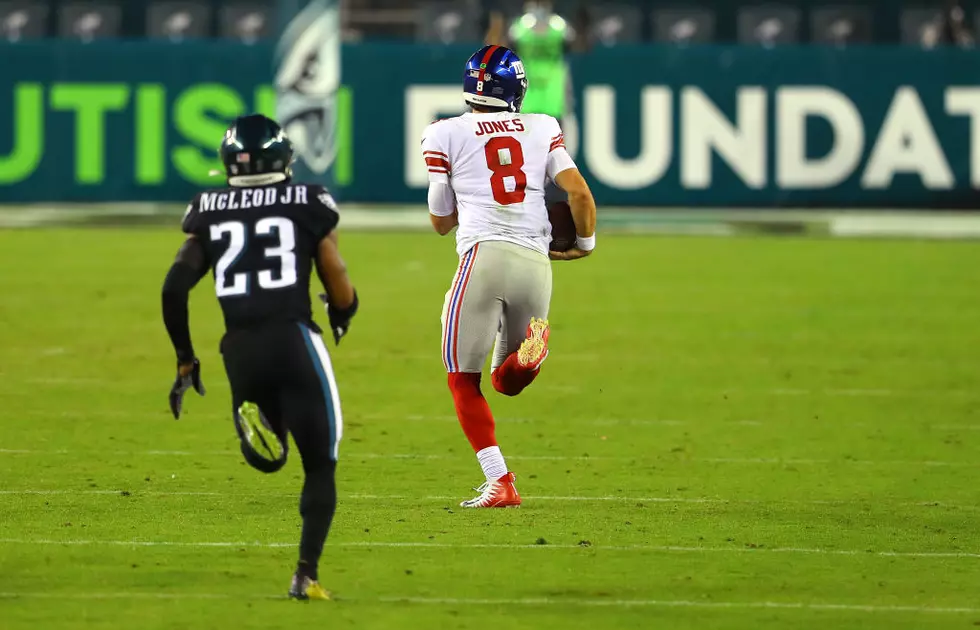 Did Daniel Jones 80 Yard Run Perfectly Sum Up His Career So Far? [VIDEO]
Getty Images
The New York Giants caused a lot of raised eyebrows when they selected the Duke QB, Daniel Jones 6th overall in the 2019 NFL Draft. Since then there have been moments where Jones has validated the Giants taking him so early but also moments that give the doubters all the ammo they need to keep second-guessing Big Blue. Thursday night Jones showed off his athleticism with an 80 yard run against the Philadelphia Eagles and then showed off his issues by falling flat on his face. There may have never been a play that summed up a young players career better than this one.
Let's start with the positive side of this play. Daniel Jones showed what a stellar athlete he can be by breaking loose on an 80 yard run against an Eagles defense that is far better than their record suggests. 80 yards ranks as the fourth-longest run in Giants history. Only Tiki Barber with a 95-yard TD, Amhad Bradshaw with an 85 yard TD and, Hap Moran with a 91 yard run in 1930 that didn't result in a TD have run farther in one play. CBS Sports says Jones 80 yards ties him for the fourth-longest run by a QB in the last 25 years.
Terrelle Pryor (Oakland Raiders) -- 93 yards (2013)
Colin Kaepernick (San Francisco 49ers) -- 90 yards (2014)
Marcus Mariota (Tennessee Titans) -- 87 yards (2015)
Kordell Stewart (Pittsburgh Steelers) -- 80 yards (1996)
Daniel Jones (New York Giants) -- 80 yards (2020)
Now to make things fair and to add the negative to all that positive, Jones was all alone with nothing but air and opportunity between him and an 88 yard TD when he tripped and fell. The Giants would ultimately score on a 1 yard Wayne Gallman TD run but that score should have been Jones'. So even though he showed how great he could be Jones still came up short. Add in a fumble to end the game and instead of everyone congratulating Danny Dimes on leading the Giants to their second win of the season and putting them a half-game out of first in the NFC East, he's a meme.
Damn Turf Monster is always lurking:
At least Patrick Mahomes has DJ's back:
This is my absolute favorite:
Where would you rank Jones being tackled by the "Turf Monster" on this all-time list of embarrassing plays?
KEEP READING: Here are 50 of the most famous sports goofs
Enter your number to get our free mobile app